Home Asia Pacific South East Asia Cambodia


Cambodia celebrates P'Chum Ben
by Sophan Seng, The Phnom Penh Post, September 23, 2008
Phnom Penh, Cambodia -- Among Cambodian annual festivities, P'Chum Ben is considered very significant.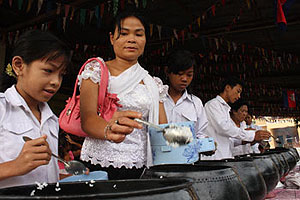 << A family at Phnom Penh's Wat Ang Pothinhean fill monks' bowls with rice on Monday, the first day of the15-day celebration of P'Chum Ben. Festivities will culminate at the end of the month with many Cambodians travelling to their home provices. HENG CHIVOAN
The festival offers a chance for all Cambodian Buddhists to pay gratitude to their deceased ancestors as well as to those living parents and elders.
The principles of Buddhist practice are to get rid of all evils, to cultivate the good and to cleanse one's mind. P'chum Ben has bonded Cambodian society and it is the instrumental cultural thread to the nation.
In sum, P'chum Ben has been a timeline, a cultural thread, a notion of national unity and prosperity, and a bonanza of goodness of all Cambodian citizens.
About P'chum Ben
P'chum Ben is a religious ceremony in September when everyone remembers the spirit of dead relatives. For fifteen days, people in Cambodian villages take turns bringing food to the temples or pagodas.
On the fifteenth and final day, everyone dresses in their finest clothing to travel together to the pagodas. Families bring overflowing baskets of flowers, and children offer food and presents to the monks.
Everyone says prayers to help their ancestors pass on to a better life. According to Khmer belief, those who do not follow the practices of P'chum Ben are cursed by their angry ancestors.