Home Asia Pacific South East Asia Vietnam


Offerings made to 1.000 monks to commemorate the passing of Ven Master Thich Thien Tanh
by Dieu Thanh , The Buddhist Channel, Apr 1, 2015
Vung Tau province, Vietnam -- To commemorate 49 days since the passing of Venerable Master Thich Thien Tanh, the late abbott of Chuyen Tu Monastery, his disciples organized a "One-Thousand-Monks Great Assembly" on the evening of March 14, 2015 at Tich Quang Tower.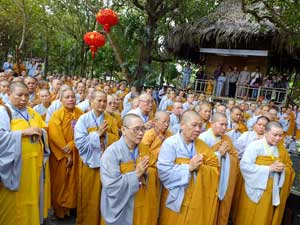 On March 15, 2015, Chuyen Tu Monastery held a memorial to commemorate the 49-day of the late venerable's passing.
At this memorial, a congregation of one thousand monks and nuns from the Vietnam Buddhist Sangha participated in the ceremony.
Venerable Master Thich Quang Hien, a member of the Management Council of Vietnam Buddhist Sangha later urged his disciples to practice compassionate teaching as a guideline towards the aim of "Seeking Buddha Teaching, Transforming other beings".
Recitation of "The Great Compassion Mantra" by members of the Sangha resounded around Thi Vai mountain. The congregation then respectfully made offerings to the Sangha, who inaugurated the "Fields of the Blessed" so that Sangha and lay Buddhists of Chuyen Tu Monastery continue to cultivate blessings for all beings.
The assembly concluded by paying homage to Triple Gem and paying their gratitude to the attending Sangha members.