Home Asia Pacific South East Asia Vietnam


First retreat for Vietnamese Community in Busan, Korea
by Dieu Thanh, The Buddhist Channel, April 8, 2015
Busan, Korea -- One of largest temples in South Korea, Sam Kwang Temple in Busan witnessed the hosting of the first Buddhist retreat for the Vietnamese community residing here. The event - organized by Chuyen Tu Monastery (Ba Ria–Vung Tau province, Vietnam) - was to enable participants to be engaged in Dharma practice.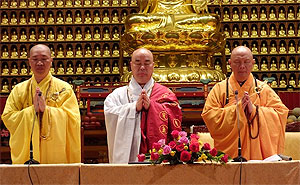 << Venerable Master Kim Moo Won – the Abbot of Sam Kwang Temple (Korea), Venerable Thich Thien Thuan – the Abbot of Chuyen Tu Monastery (Vietnam), Venerable Thich Hanh Bao – the Abbot of Lien Tam Temple (Finland) making offerings and prayers for happiness of all beings.
Held between April 4th and 5th, 2015, the retreat gave participants invaluable experience of a temple stay at no charge. Practitioners had to follow strict schedules. Activities held include chanting of sutras, walking meditation, confession of faults and listening to Dharma talks
Practitioners also took refuge in Triple Gem and were prescribed the Five Precepts by the Sangha.
About 1,000 applications from Vietnamese all over the world - from Korea, Finland, USA and Vietnam - were received to participate in this retreat.
More details are available at official website www.vienchuyentu.net