Home Asia Pacific South East Asia Vietnam


Vu Lan: The Buddhist Mother's Day in Vietnam
TUOI TRE NEWS, Aug 29, 2015
Hanoi, Vietnam -- A large number of Vietnamese people on Friday flocked to pagodas across the country to observe the Buddhist "Vu Lan" Festival, where they expressed their gratefulness and appreciation toward their parents, especially their mothers.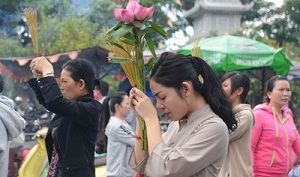 Local people usually visit pagodas to burn incense to pray for peace to their parents and family on the event, held annually on the 15th of the seventh month of the lunar calendar.
Visitors will also receive a pink, red or white plastic rose to pin on their shirts, with the first two colors indicating that the mothers of the wearers are alive, whereas the remaining means their moms have passed away.
Hoang Phap, the largest pagoda in Ho Chi Minh City that is located in Hoc Mon District, and Vinh Nghiem in District 3 were packed with visitors on Friday, despite the scorching heat.
"I go to pagoda to calm my soul," Le Thanh Tuan who accompanied his mother to Hoa Khanh pagoda in Binh Thanh District shared. "I also pray for my mother's health and longevity."
Elsewhere in the central city of Hue, local residents, tourists and foreigners also came to pagodas to celebrate the meaningful day.
"I come here to commemorate my deceased mother as well as to remind our children they must be filial to their parents," Nguyen Thi Mot, who has a white rose on her T-shirt, said.