Home Asia Pacific South East Asia Vietnam


Lam Dong province presents gifts to Buddhist monks and nuns
VNA, May 8, 2006
Lam Dong, Vietnam -- The authorities and mass organisations in Central Highlands Lam Dong province from May 7-8 sent many delegations to visit and present gifts to monks and nuns at Buddhist pagodas in the province on the occasion of Buddha's 2630th birth anniversary and the 2550-year Buddhist calendar.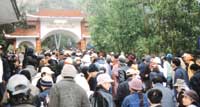 Leaders of Lam Dong province praised Buddhism's role in the country's history and Buddhist followers' positive contributions to national and religious development. The Party and State have always respected people's freedom of religion and belief, they said, adding that the province had created favourable conditions for religious practices by Buddhist dignitaries and followers, helping them develop religious facilities such as pagodas, Zen monasteries, and Buddhism training centres.
Most Venerable Thich Tu Man, Chairman of the Executive Board of the Buddhist Shangha of Lam Dong province, expressed thanks to the State and the provincial authorities for their assistance in the development of Buddhism in Lam Dong province.