Home Asia Pacific South East Asia Vietnam


Hoa Hao Buddhism founding anniversary celebrated
by Tan Duc, Translated by Thu Thuy, Thanh Nien Daily, June 12, 2006
Hanoi, Vietnam -- The Hoa Hao Buddhist Central Administrative Committee will hold a solemn ceremony in southern An Giang province Tuesday to mark the 67th anniversary of the religion on the 18th day of fifth lunar month.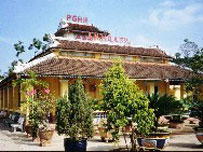 The ceremony will be held at the An Hoa Temple in Phu My town, Phu Tan district.
At the ceremony, the committee will praise Hoa Hao Buddhist dignitaries and followers who have greatly contributed to the development of the religion and charity activities in the region.
On this occasion, representatives of many other religions and State organizations have visited or sent congratulatory letters to the Hoa Hao Buddhism Central Administrative Committee and followers.
Hoa Hao Buddhism was founded on July 4, 1939, or the 18th day of the fifth month of the Year of the Cat, by Prophet Huynh Phu So, a native of Hoa Hao Village in Tan Chau district, An Giang province.
Since then, it has grown into a major religion throughout the Mekong River Delta in southern Vietnam, including An Giang, Bac Lieu, Long An, and Vinh Long provinces.
Hoa Hao Buddhism is popularly practiced by millions of Vietnamese with its simple teaching and practice of Buddhism, combining a religious and daily life.