Home Asia Pacific South East Asia Vietnam


Duc Son pagoda lights hopes for disadvantaged children
VNA, Aug 5, 2006
Thua Thien-Hue, Vietnam -- Hundreds of underprivileged children have enjoyed better living conditions and nurtured hope for a brighter future since they were cared by Buddhist nuns in Duc Son pagoda.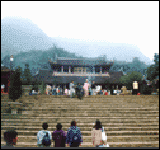 << The pagoda in Huong Thuy district, central Thua Thien-Hue province.
Not only giving a shelter to disadvantaged children, including the homeless, disabled, orphans, and Agent Orange victims, these nuns have also created favourable conditions for the children to attend classes. Many of them have accomplished higher education and now enjoy stable jobs.
These nuns have also done their utmost to open free classes and child-minding centres for poor children in Huong Thuy district, which have so far drawn in more than 2,200 local children. Additionally, they have given medicine to poor patients in remote areas.
The pagoda, currently home to more than 200 underprivileged children, is headed by nun Thich Nu Minh Tu, one of ten outstanding women honoured as, "Those women who stir Vietnamese heart."