Home Asia Pacific South East Asia Vietnam


Buddhist monks mark Motherís Day with charity
Reported by Nguyen Thuy, translated by Thu Thuy, Thanh Nien Daily, Aug 9, 2006
Ho Chi Minh City, Vietnam -- Buddhist dignitaries and monks from several pagodas in Ho Chi Minh City yesterday presented gifts, food and money to the poor in the city on the occasion of Vu Lan Festival (Mother's Day in Vietnam).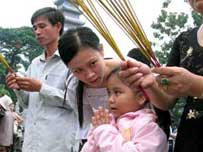 << Vu Lan, also known as Mother's Day in Vietnam
The HCMC Buddhist Shangha Tuesday afternoon presented gifts worth VND100 million (US$6,212) totally to 1,400 poor households across the city.
Venerable Thich Dat Dao, head of the Bat Nha Pagoda in Binh Thanh district, and the monks on Tuesday delivered rice to 300 poor families in the district.
Vinh Nghiem, one of the large pagodas in HCMC, on Monday donated 300 gifts, each comprises a crate of instant noodle, 10 kilograms of rice and VND50,000 (US$3.1) to the disadvantaged people.
Vu Lan Festival, also known as Mother's Day in Vietnam, falls on the fifteen day of seventh lunar moon and is a time for people to demonstrate their filial piety, doing good deeds for their parents.
Thich Tri Quang of the HCMC Buddhist Shangha said most of pagodas, temples and monasteries in the city held many programs and activities to mark the Vu Lan Festival during the first half of the seventh lunar month.