Home Asia Pacific South East Asia Vietnam


Famous lacquer paintings successfully preserved
VNS, Sept 19, 2006
Ha noi, Vietnam -- Two culturally and historically significant Vietnamese traditional lacquer paintings have been successfully preserved with US government funding.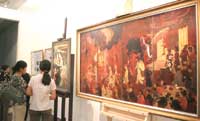 << Back to life: Lacquer paintings Buddhist Festival (right) and North and South under One Roof have been successfully preserved with financial assistance from the AFCP. - VNS Photo Doan Tung
To preserve Hoi Chua (Buddhist Festival) by Le Quoc Loc and Bac Nam Mot Nha (North and South under One Roof) by Nguyen Van Ty, the US Ambassador's Fund for Cultural Preservation (AFCP) granted US$20,000 to the Viet Nam Fine Arts Museum in Ha Noi last year.
These archetypal works of Viet Nam's 20th-century lacquer painting, completed in 1939 and 1961, respectively, seriously degraded under the intense heat and humidity of Viet Nam and because of a lack of proper maintenance and adequate facilities.
Both paintings, widely considered national treasures, have been preserved by the museum's experts as well as by artisans. After 10 months of preservation work, the two paintings regained their original aesthetic value, which they should be able to maintain for years to come.
The AFCP was founded by the US Department of State in 2001 with the aim of helping developing countries preserve their cultural heritage.
This year, the AFCP has granted $2.8 million to 87 projects in 76 countries. In total, the fund has supported 292 projects costing $6.7 million, including several projects in Viet Nam.