Home Asia Pacific South East Asia Vietnam


Vietnamese Buddhist patriarch hospitalized
Deutsche Presse-Agentur dpa, September 28, 2006
Hanoi, Vietnam -- The 86-year-old patriarch of a banned Buddhist sect in Vietnam has been hospitalized and was being transferred to a Ho Chi Minh City facility for heart and lung problems, his Paris-based supporters said Thursday.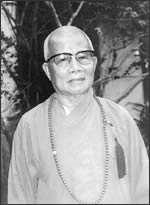 << Ven. Thich Huyen Quang
Thich Huyen Quang, the patriarch of the Unified Buddhist Church of Vietnam (UBCV), was moved Thursday morning from a hospital in Binh Dinh province to Ho Chi Minh City (formerly Saigon), according to the International Buddhist Information Bureau.
"Buddhists in Vietnam and overseas are overjoyed to learn that the UBCV Patriarch is leaving the remote Nguyen Thieu Monastery in Binh Dinh for Saigon, where he can receive proper medical treatment as well as care and support from his followers," a statement from the group said.
It was unclear Thursday whether Quang's deputy, Thich Quang Do, 78, would be permitted to leave his pagoda in Ho Chi Minh City to visit the patriarch.
Last week, Thich Quang Do was awarded a Rafko Prize for human rights by a Norwegian foundation "for his personal courage and perseverance through three decades of peaceful opposition against the communist regime in Vietnam."
Both monks have been under police supervision since 2003, when they attempted to hold a nationwide congress of the church's monks.
The UBCV is not recognized by Vietnam's communist government, which insists all religions be government by the state, a requirement rejected by Thich Huyen Quang.