Home Asia Pacific South East Asia Vietnam


Monk dares not accept RAFTO prize
Aftenpolten, Nov 1, 2006
Hanoi, Vietnam -- Vietnamese Buddhist monk Thich Quang Do will not accept the human rights dedicated Rafto Prize because he fears he will not be allowed back into his homeland.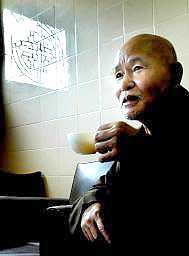 << Ven. Thich Quang Do
Do, 77, deputy leader of the outlawed United Buddhist Church of Vietnam (UBCV), said in a letter to the Bergen-based Thorolf Rafto Foundation for Human Rights: "I must be honest, I do not trust the Communist regime."
The letter said the monk, currently under house arrest in Ho Chi Minh City, had asked the UBCV's international spokesman, Vo Van Ai, to accept the prize on his behalf on Saturday. The group announced its annual prize in September.
"It is not impossible that Vietnam will agree to let me travel, giving way to international pressure from your government or to gain credibility before hosting APEC summit in Hanoi ... but if they let me leave, will they ever let me return?" Do wrote in the letter distributed by the Paris-based International Buddhist Information Bureau.
Hanoi hosts the 21-member Asia-Pacific Economic Cooperation forum summit in the week of Nov. 12-Nov. 19, the biggest international event yet staged in Vietnam.
European countries and the United States have praised Hanoi for improving its religious rights record in the past two years, but it has not lifted its ban on the UBCV, which rejects state supervision on all faiths.