Home Asia Pacific South East Asia Vietnam


Vietnam Buddhism Congregation marks 25th anniversary
by N. Thuy, Translated by Luu Thi Hong, Thanh Nien News, Nov 7, 2006
Ho Chi Minh City, Vietnam -- The Vietnamese Buddhist Congregation, the country's largest Buddhist group, reviewed its contributions to the nation during celebrations in Ho Chi Minh City Tuesday to mark the 25th anniversary of its founding.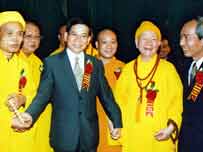 The celebrations took place at the city's Pho Quang Pagoda and were attended by the congregation (VBC)'s Central Committee, local authorities, other religious committees, Buddhist monks and nuns, devotees, and others.
In his message to Buddhist monks at home and abroad, deputy head of VBC, Superior Buddhist Monk Thich Tri Tinh, said in the last 25 years VBC had made considerable contribution to religion, propagation of faith, charity, and relations with the international community.
In a congratulatory letter the Vietnam Fatherland Front – an umbrella agency of political and social organizations – said VBC had played an important and active role in national solidarity and in building and protecting the country.
VBC's Managing Committee said the congregation had built or improved a large number of Buddhist facilities.