Home Asia Pacific South East Asia Vietnam


Bronze-cast pagoda to glimmer in Buddhist holy land
by Luu Quang Pho, Translated by An Dien, Thanh Nien News, Dec 28, 2006
Ha Long Bay, Vietnam -- Work on the construction of the popular Dong (copper) Pagoda began last week in a Vietnamese northern province, set to conclude ahead of the Tet Lunar New Year.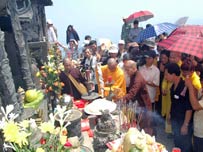 The pagoda will be situated at the Yen Tu tourism site in Quang Ninh province, home to the world heritage site Ha Long Bay, at an altitude of 1068m.
The construction project, totaling VND21.5 billion (US$1.34 million), was conducted by the Hanoi Fine Arts Construction Company Ltd, with craftsmen hired from the northern province of Nam Dinh.
Covering an area of 17 sq.m, the Dong Pagoda was cast with around 60 tons of copper alloyed with gold, contributed by devout pilgrims in the country.
When completed, the pagoda is to be the highlight of the Yen Tu tourism site, deemed the holy land of Vietnamese Buddhists centuries ago.
The construction was slated to wrap up ahead of the Lunar New Year to welcome pilgrims flocking to participate in the annual Yen Tu festival.
The mountainous region of Yen Tu has been a Buddhism center for many centuries and is the starting point of the Buddhist sect of Truc Lam.
The Yen Tu historic site has 11 pagodas currently and around 100 shrines and towers.