Home Asia Pacific South East Asia Vietnam


Bronze pagoda built in ancient Vietnam Buddhist area
Thanh Nien News, Jan 30, 2007
Quang Ninh, Vietnam -- A mountain-top Chua Dong (bronze pagoda) was opened Tuesday at a famous Buddhist site in Vietnam's Quang Ninh province.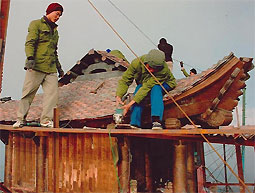 Situated on the 1,068m Yen Tu mountain, Chua Dong is set amid ancient pagodas and temples and centuries-old trees, 40km from the World Heritage site of Ha Long Bay.
The 4m high pagoda was cast in pure bronze at a cost of VND 21.2 billion (US $1.32 million) by experienced artisans from the northern province of Nam Dinh.
It is expected to be a key attraction at the 800-year-old Yen Tu Buddhist site.
A cable car carries travelers halfway up the mountain amid splendid scenery, including two giant, 700-year-old trees, and old pagodas. From there they will have to climb up to Chua Dong.
The site, which welcomes some 400,000 visitors every year, will be preserved and developed under a VND 625 billion (US $ 38.91 million) program in an effort to be named as a World Heritage.