Home Asia Pacific South East Asia Vietnam


Gigantic calligraphy balloons to fly over festival skies
by Dieu Hien, Translated by An Dien, Thanh Nien News, March 24, 2007
Danang, Vietnam -- A calligraphy balloon 36m long and 1.8m wide will float in the skies above Danang city, highlighting what would be the largest-ever Quan The Am (Goddess of Mercy) Carnival in Vietnam.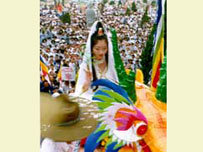 The special balloon, jointly created by 14 popular Vietnamese calligraphers, will be showcased with another gold pig-shaped balloon measuring 30m in height, to portray New Year's wishes.
Besides, the Goddess of Mercy Carnival, slated for April 4-6, will feature other typical Buddhism worship rituals.
A 550-strong delegation led by world-famed Zen Monk Thich Nhat Hanh, who is visiting Vietnam after returning from the US, will also participate in the carnival.
The Goddess of Mercy Carnival, officially recognized as one of the country's 15 largest festivals, is held annually in the Danang's Ngu Hanh Son tourist site, featuring a plethora of religious and cultural activities.
It was first held in 1960 in Danang to mark the inauguration of the Goddess of Mercy statue.