Home Asia Pacific South East Asia Vietnam


Thich Nhat Hanh holds requiem in central Vietnam
by Tuoi Tre, Translated by The Vinh, Thanh Nien Daily, April 3, 2007
Ho Chi Minh City, Vietnam -- World-famous Zen Master Thich Nhat Hanh began another Grand Requiem Monday for those killed in all wars and accidents in Vietnam.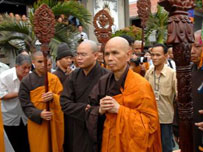 Over 3,500 people are expected to attend the three-day chanting ceremony at Quoc Tu Dieu De (Dieu De National Pagoda) in Hue City, once the royal capital of Vietnam.
It is the second of three such events planned during Hanh's three-month Vietnam trip. The first was held in Ho Chi Minh City last month, and the last would be held in the capital Hanoi on April 20-22.
The Hue organizers plan to give away scholarships and gifts worth VND150 million (US$18,600) to needy students and families on the final day of the ceremony.
Hanh was born in central Vietnam in 1926 and is now one of the best known Buddhist teachers in the West.
In 1967 Martin Luther King, Jr. nominated him for the Nobel Peace Prize.
Since 1973 he has made the Plum Village Monastery in the Dordogne region of southern France his home. He travels internationally on a regular basis, leading retreats and talks.
After being denied entry into Vietnam in 1973, Hanh returned to his homeland for the first time in 2005 to "listen to and understand the country".