Home Asia Pacific South East Asia Vietnam


Buddhist festival runs in Da Nang city
VietnamNet Bridge, April 7, 2007
Da Nang, Vietnam -- The ceremony was attended by the municipal authorities and local Most Venerables, Venerables, superior bronzes, monks and nuns. Zen Master Thich Nhat Hanh from the Lang Mai Village in France led a delegation of nearly 400 monks and nuns.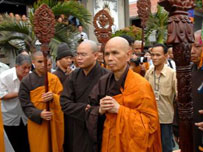 << A ceremony marking the birthday of the Goddess of Mercy was held in Da Nang on April 6 as the main part of the Quan The Am Festival in the central coastal province.
Addressing the ceremony, Venerable Thich Thien Nguyen, deputy head of the Da Nang Buddhist Church said the Quan The Am (Goddess of Mercy) Festival is a cultural carnival, which is imbued with not only the Buddhist culture but also national identity.
The festival, officially recognized as one of the 15 largest festivals in Viet Nam, is held annually in Da Nang's Ngu Hanh Son tourist site, featuring a number of religious and cultural activities.
During this year's festival, a calligraphy balloon, which is 36m long and 1.8m wide and the 19-page Goddess of Mercy pictorial, measuring 2.331m in height and 2.007m in width were recognised as the largest ever in the country by the Viet Nam Centre for Book on Records.
The Quan The Am Festival was first held in 1960.