Home Asia Pacific South East Asia Vietnam


President Triet meets Zen Master Thich Nhat Hanh
VietNamNet, May 8, 2007
Hanoi, VietNam -- Vietnam will always respect the rights of the individual to enjoy freedom of religion, belief and worship, and is adamant that all favourable conditions must be created so all religions feel welcomed within the country.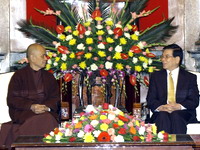 That was the clear message delivered by State President Nguyen Minh Triet as he met with world renowned Zen Master Thich Nhat Hanh and his French-based entourage, in Hanoi, on May 5.

"Religion and belief are spiritual needs and are part of our people, they will be with us for the entirety of our socialist construction process and beyond," he said.

The State leader hailed the trip to Vietnam by Zen Master Hanh as an extremely positive contribution to domestic religious activities, and expressed his delight at the Zen Master's affection towards his homeland.

The President said he hoped that Zen Master Hanh and his entourage would make more trips to Vietnam and contribute further to national solidarity and development.

Zen Master Hanh thanked the Government for its help in facilitating his visit and participation in a number of activities linked to the traditions of Vietnamese Buddhism.

Zen Master Thich Nhat Hanh and 150 accompanying monks, nuns and followers have been in Vietnam since February 20 at the invitation of the Vietnam Buddhist Sangha's International Buddhism Board. They are scheduled to leave the country on May 9.