Home Asia Pacific South East Asia Vietnam


Vietnam to host International Buddhist Conference next year
by Thuc Minh, Thanh Nien News, May 28, 2007
Hanoi, Vietnam -- Vietnam will host the fifth annual International Buddhist Conference next year, Vietnamese Prime Minister Nguyen Tan Dung told the on-going forth conference in Thailand via a telegram.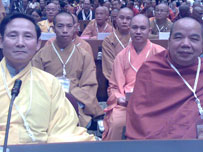 He said in the message that the Vietnamese government is ready to host the conference for the sake of peace, democracy, development and social advancement.
PM Dung also said, "Vietnam always respects and guarantees the rights to freedom of religion and worship of the people. The community of Buddhists in Vietnam has been long established and upholds the tradition of unity with the people and the fatherland."
Around 1,500 dignitaries from 61 countries are participating in the fourth four-day International Buddhist Conference started Saturday in Nakha Pathorn province, 50 km northwest of Bangkok.
The world is set to celebrate Buddha's birthday worldwide next Wednesday and Thursday.