Home Asia Pacific South East Asia Vietnam


Buddhist monk showcases unique photo collection
Thanh Nien News, Jan 1, 2008
Ha Tay Province, Vietnam -- A venerable monk named Thich Minh Hien, has been gaining recognition over the last few years for more than just overseeing the Huong Pagoda in Ha Tay Province.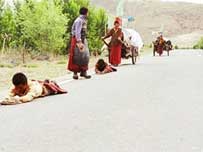 << A Tibetan family going on a pilgrimage to pagoda (Photo: Thich Minh Hien)

The talented monk has produced five photo exhibitions in ten years, with the latest one featuring images of Japan and Tibet Buddhist culture.

Four of Hien's exhibitions in 1997, 1998, 1999 and 2002 displayed photos shot exclusively in Vietnam.

The latest one, titled "West-East, Snow and Flower," has given viewers a unique glimpse of Japan and Tibet's most secret temples and palaces – scenes that are completely out of reach for the average person.

Also a Buddhist history teacher, Hien uses his camera to shoot the art, architecture, sculpture, and pagodas that he describes in his lectures.

Hien has continually challenged himself throughout his photographic career.

Once he nearly slipped into a deep crevice while shooting on a mountaintop in Tibet.

"Luckily I had already made 15 shots of Everest's peak," said Hien.

He also trekked hundreds of kilo-meters through the desert once to capture its breathtaking scenery and capitalize on its beautiful, natural lighting.

Hien's exhibition is running now through the end of January at the Huong Pagoda in Ha Tay Province.