Home Asia Pacific South East Asia Vietnam


Yen Tu festival opens in Quang Ninh, Vietnam
VNA, Feb 18, 2008
Quang Ninh Province, Vietnam -- About 50,000 visitors flocked to Yen Tu Mountain in northern coastal Quang Ninh Province for the opening day of the Yen Tu Pagoda Festival Saturday, the tenth day of the first lunar month.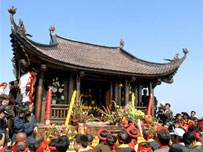 The annual festival, which finishes at the end of the third lunar month, is expected to receive hundreds of thousands of pilgrims this year.
The mountain scenery and beautiful pagodas and hermitages, inspired King Tran Nhan Tong, who reigned over the country from 1279 to 1293, to pass the throne to his son to lead the life of a Buddhist monk at Yen Tu.
There, he founded the Truc Lam medication sect, making Yen Tu the country's leading Buddhist center.
The route of the pilgrimage from the foot of the mountain to the pagoda is nearly 30 km.
The highest point of Yen Tu is Dong Pagoda, which is located 1,068 m above sea level.
Yen Tu, about 50 km from Ha Long Town, welcomed 150,000 visitors on the first nine days of the first lunar month.
The opening ceremony was attended by VIPs including Deputy President Nguyen Thi Doan, Deputy National Assembly Chairwoman Tong Thi Phong and representatives of the Vietnam Buddhist Sangha's Executive Council.