Ceremony Honours Vietnam Monks' Self-Immolation
The Buddhist Channel, May 26, 2008
Ho Chi Minh City, Vietnam -- A ceremony was held in Ho Chi Minh City on 24 May to commemorate Bodhisattva Thich Quang Duc's self-immolation 45 years ago and the death anniversary of all Buddhist monks who sacrificed for the religion.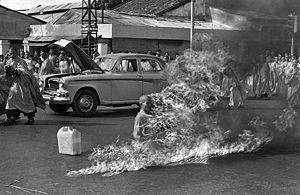 << Thich Quang Duc act of self immolation on June 11, 1963 in Saigon, Vietnam



Speaking at the ceremony, Most Venerable Thich Tri Quang, vice- chairman of the Vietnam Buddhist Sangha's Executive Council and chairman of the HCM City Buddhist Sangha's Executive Committee, affirmed the great contributions made by those Buddhist monks who had immolated themselves for the religious cause.





He recalled the brave and immortal image of Bodhisattva Thich Quang Duc, who burned himself to death in Saigon on 11 June 1963 to protest against the persecution of Buddhists by the Ngo Dinh Diem administration and demand the realization of a fair religious policy towards Buddhists.





The image of Bodhisattva Thich Quang Duc's self-immolation has left strong impression in the minds of every Vietnamese and people all over the world, marking a new stage of development in Vietnam's Buddhist history, he said.





Buddhist dignitaries, monks, nuns and followers in HCM City also prayed for earthquake victims in China and cyclone victims in Myanmar.





--------------




Originally published by Voice of Vietnam text website, Hanoi, in English 25 May 08.