Home Asia Pacific South East Asia Vietnam


Ceremony remembers monks' sacrifice during American war
VNS, May 26, 2008
Ho Chi Minh City, Vietnam -- The self-immolation of Bodhisattva Thich Quang Duc 45 years ago and the deaths of all Buddhist monks who have sacrificed for their faith were celebrated in a commemorative ceremony in HCM City on Saturday.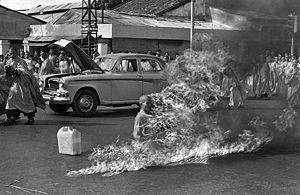 Speaking at the ceremony, Most Venerable Thich Tri Quang, vice chairman of the Viet Nam Buddhist Sangha's Executive Council and chairman of the HCM City Buddhist Sangha's Executive Committee, recalled the brave and immortal image of Duc when he burned himself to death in Sai Gon on June 11, 1963, to protest the persecution of Buddhists by the administration of Ngo Dinh Diem, calling for a fair religious policy and the realisation of the just aspirations of Buddhists.
The image has left a strong impression in the memory of every Vietnamese and of people all over the world, he said.
Quang affirmed the great contributions of all of the monks who had sacrificed themselves in laying the foundation for the strong development of Vietnamese Buddhism.
Buddhist monks, nuns and followers at the ceremony also prayed for victims of the recent earthquake in China and of the recent cyclone in Myanmar.