Home Asia Pacific South East Asia Vietnam


Precious Buddhist statues on display in Ho Chi Minh City
VietNamNet Bridge, May 29, 2008
Ho Chi Minh City, Vietnam -- A collection of 18 precious Buddhist statues dating back to the 17th and the 19th centuries are on display at the Ho Chi Minh City History Museum.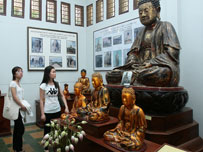 << The collection of recently-restored Vietnamese Buddha statues on exhibition at the HCMC History Museum yesterday
The statues are part of a 300-piece collection owned by the museum, 200 are considered extremely valuable to the country.
The statues on display had earlier been restored with 27,000-USD support from the US Ambassador's Fund for Cultural Preservation (AFCP). The restoration took place from December 2007 to May 2008.
The AFCP has financed other restorative projects in Vietnam, including preservation of the Cham ethnic group's Kate Festival and the Tay ethnic group's "Then" singing, conserving lacquer paintings at the Hanoi Fine Arts Museum, and restoring the Hy Hoa Temple in the ancient town of Hoi An and the Dau pagoda in the northern province of Bac Ninh.