Home Asia Pacific South East Asia Vietnam


Vietnam's Buddha treasure
Thanh Nien News, June 20, 2008
Hanoi, Vietnam -- A visit to the sanctuary of Van Phat Quang Dai Tong Lam Pagoda in the southern Ba Ria-Vung Tau Province gives travelers a glimpse of the solemn architecture of Asian Buddhism and eases the distress of bustling city life.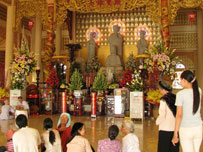 << A view of the ornate inner sanctum of Van Phat Quang Dai Tong Lam Pagoda

Located around 70 kilometers from Ho Chi Minh City, the pagoda rests by the side of National Highway No. 51 in Tan Thanh District's Phu My Commune.

Nested in a tranquil site at the foot of Thi Vai Mountain, the pagoda, which was originally built in 1958, is surrounded by green trees and enchanting lakes.

Through the years, the pagoda has been renovated several times, including the main sanctum which is 91 meters long and 46 meters high – recognized as the largest of its kind in Vietnam – among other supporting buildings.

Van Phat Quang, which means ten thousand glittering Buddhas, is symbolic of the pagoda which is home to a tremendous collection of Buddha statues, most of which are displayed on the walls in the main sanctum.

In front of the main sanctum is Vietnam's largest shrine which displays the Mitreya Buddha, weighing six tons and made of granite.

Another distinguished statue is the 17-meter-high Bodhisattva Kwan Yin, which is accompanied by around 46 smaller versions in the compound.

A unique image that will surely impart a lasting impression on visitors to the pagoda is the sight of a giant Buddha resting on the foot of an ancient tree, praying for happiness and peace.