Home Asia Pacific South East Asia Vietnam


Giant Lying Buddha installed in Dong Thap
by Giao Huong, Thanh Nien News, Dec 21, 2008
Dong Thap, Vietnam -- The biggest Lying Buddha statue in the Mekong Delta will be installed today in Dong Thap Province.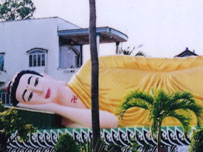 << The largest statue of the Lying Buddha in the Mekong Delta, the position in which he is said to have attained Nirvana.
The sculpture, 32 meters long and weighing 100 tons, is that of Buddha lying on his side on a lotus petal, his right arm supporting his head and his left arm lying along his body.
Buddhist scriptures say the Buddha assumed this position when he attained Nirvana, the release from the cycle of death and rebirth of an enlightened person.
Thich Giac An of Quan Am Pagoda, which from today will be home to the statue, said many Buddhists and locals contributed the 2,000 sacks of cement, five tons of iron and many other necessary materials worth VND1.6 billion (US$94,000) needed to build the statue.
Quan Am Pagoda, founded 200 years ago by a mandarin named Tran Quy Tanh, receives many devotees from across the country for major Buddhist festivals.