Home Asia Pacific South East Asia Vietnam


2008 a successful year of Vietnamese Buddhism
VietNamNet Bridge, Dec 30, 2008
Ho Chi Minh City, Vietnam -- Buddhist dignitaries have appreciated 2008 as a successful year of the Vietnamese Buddhism with valuable and practical support from the Party and State.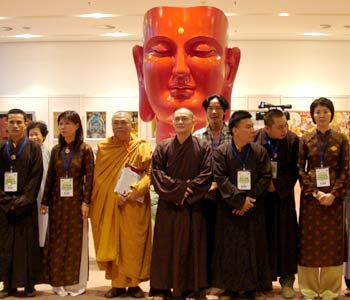 Speaking at the second Annual Meeting of the Vietnam Buddhist Sangha (VBS), the sixth tenure, held in Ho Chi Minh City on Dec. 30, Most Venerable Thich Tu Nhon, Chairman of the VBS Executive Council, affirmed that the past year has seen many important Buddhist events, which manifested the Sangha's strong and effective development.

The VBS calls upon Buddhist clergymen and followers to get ready for a new year of development.

In a letter to Vietnamese Buddhists at home and abroad, VBS Patriarch Most Venerable Thich Pho Tue reminded them of preserving and promoting the tradition of solidarity and the spirit of serving the religion and the nation, helping build a prosperous country of Vietnam .

Over the past year, the VBS's position and prestige in the world have much improved after it successfully hosted a series of large-scale events, including the UN Day of Vesak 2008 in May and a preaching tour of Europe by the Sangha's dignitaries.

Vietnam has been selected to host the sixth International Buddhist Conference in 2010.

Buddhist monks and nuns nationwide also actively participated in humanitarian activities last year, raising over 258 billion VND (15.2 million USD) for the poor and disaster victims.





About Us
Get Breaking Buddhist News in your Email. Free subscription.

Please help keep the Buddhist Channel going

Point your feed reader to this location
Wikipedia: Buddhism by Country
Sangha Directory
Ecards
Wallpapers
E-Library
Archives
Sitemap
Submit an Article
Write to the Editor
Affiliation Program