Home Asia Pacific South East Asia Vietnam


Buddhist cultural centre inaugurated in Hue city
VNA, February 27, 2009
Hue, Vietnam -- A Buddhist cultural centre, built at a cost of VND 5 billion, was inaugurated in the central province of Thua Thien-Hue on February 26.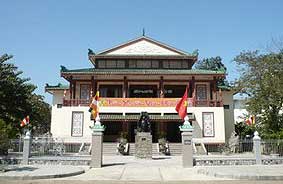 The Lieu Quan Buddhist Cultural Centre consists of a two-storey building on a total acreage of 1,210 sq.m and a garden with a variety of ornamental plants.
Once a lot of other parts of the centre are completed and put into use after its 20-month construction process, a number of cultural activities are to be organised, including photographic and art exhibitions.
It has already established itself as a Buddhist centre, not only for monks, nuns and followers of the faith, but also for tourists who visit to enjoy the tranquility of the place and take in the Buddhist books, prayers and other publications that are on display there.