Home Asia Pacific South East Asia Vietnam


Vietnamese Buddhists pray for HIV/AIDS patients
SGGP, March 2, 2009
Hanoi, Vietnam -- Vietnam Buddhist Shangha's Management Board held an event to show how to live with and prevent the spread HIV/AIDS and light candles to pray for infected victims at the Buddhist Culture Tradition House on March 1.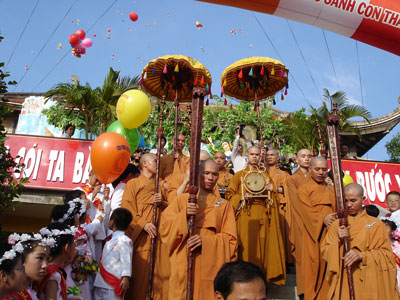 << Monks and Buddhists followers hold a ceremony to pray for peace and health of people in the world ( Photo: D. Trong)
The event included visits to HIV/AIDS afflicted children at Tam Binh House in Thu Duc District and Long Hoa Orphanage in District 7.
Competitions to present strategies of living with HIV/AIDS and how to prevent the disease were held among 200 students.
Some plays about how to prevent and live with the disease were staged.
Buddhists lit thousands of candles to pray for HIV/AIDS patients.