Home Asia Pacific South East Asia Vietnam


Da Nang hosts Buddhist festival
VOVNews, March 14, 2009
Da Nang, Vietnam -- More than 50,000 Buddhist monks, nuns and pilgrims took part in drumming, lion dances and religious rituals on March 13 at the opening of the Quan The Am (Goddess of Mercy) festival in the central city of Da Nang.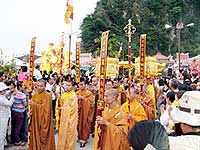 The Municipal People's Committee organised a special song and dance programme and an auction of Buddhist paintings and statues to raise funds for Agent Orange/dioxin victims in the city.
The ceremony closed with the release of lanterns on the Co Co River in front of Quan The Am pagoda, a procession of flower-decorated vehicles and camping activities.
In the afternoon, festival organisers opened an exhibition showcasing carved stone statues and held traditional sports games such as tug-of-war and stick throwing.
Other activities at the three-day festival include a calligraphy exhibition, a tea making demonstration, lion-and unicorn dances, boat racing and the preaching of Buddhist scriptures.
The festival, which is held annually at the Marble Mountains – a tourist attraction in Da Nang, aims to pray for peace, stability and prosperity. It has been included in the list of 15 national festivals.