Home Asia Pacific South East Asia Vietnam


Buddhist pagodas expect huge crowds for full moon
by Giao Huong, translated by Quynh Nhu, Than Hnien News, Feb 19, 2005
Ho Chi Minh City, Vietnam -- Tourists and locals are expected to flock to pagodas and sanctuaries in Ho Chi Minh City next Tuesday, Feb. 22 to mark the first full moon day of the Lunar New Year.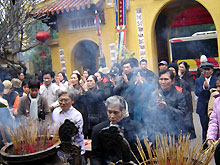 On the 14th day of the Lunar calendar, it has been tradition for Vietnamese people to visit Buddhist pagodas and pray to the gods.
Meanwhile, tourists will likely be attracted to the interesting activities at the pagodas that day.
The city?s Buddhist pagodas like Xa Loi, Vinh Nghiem, An Quan, Gia Lam and Duoc Su where many religious activities take place are expecting huge numbers of visitors.
Also, big ceremonial offerings will be celebrated at On Lang and Ha Chuong, two Buddhist clubhouses of the Chinese-Vietnamese community in HCMC.
In particular, tourists and locals are expected to visit the 14 meter-high stone-made tower in Vinh Nghiem pagoda. The tower was built from April 2001 to December 2003 to honor the pagoda?s founder Buddhist monk Thich Thanh Kiem.