Home Asia Pacific South East Asia Vietnam


Week of Buddhist Culture starts in Nha Trang
VNA, November 30, 2009
Nha Trang, Vietnam -- Two photo exhibitions were opened in the central coastal city of Nha Trang , Khanh Hoa province, on November 29, starting a week of Buddhist Culture.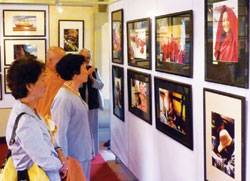 << Photo: Van Ky
The week, lasting until December 5, is to celebrate the 1,000th birthday anniversary of Thang Long-Hanoi and the first national conference of the cultural sector of the Vietnam Buddhist Sangha.
One of the exhibition displays 40 panoramic photos of 1.5m x 3.2m made by Nguyen Thinh and Ngo Thuy Hong, introducing landscapes and cultural tangible heritage across the country.
The second exhibition shows 108 photos of 40cm x 60cm of landscapes in Buddhist places in Japan, Bhutan, and Tibet (China) taken by monk Thich Minh Hien.
The Week of Buddhist Culture also includes programmes to introduce Buddhist heritage sites in Khanh Hoa province, a seminar on Buddhist culture, film shows, a music performance, and a prayer in Cam Ranh town.