Home Asia Pacific South East Asia Vietnam


Fully restored Pagoda opens
Vietnam News, March 8, 2010
SOC TRANG, Vietnam -- Thousands of pilgrims from Mekong Delta provinces, mostly ethnic Khmer, flocked to the Chua Doi (Bat Pagoda) in Soc Trang City during weekend to celebrate the restoration of the famous monument.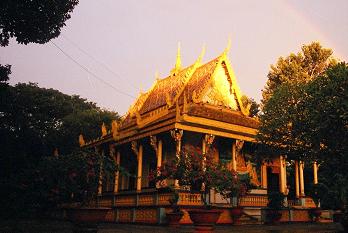 << Back in business: The most famous pagoda in Soc Trang, the Bat Pagoda, was destroyed partly by fire three years ago. Thousands of people flocked to the pagoda during the weekend to celebrate its restoration. — VNS File Photo
Many were eager to see the new sanctuary dedicated to the Buddha at a three-day inauguration ceremony held by the province's Buddhist Clergy Society that ended yesterday.
The 400-year-old pagoda, which is built in typical Khmer religious architectural style and is famous for the myriad of bats taking shelter in trees in its backyard, was accidentally burned down three years ago.
The incident shocked the Khmer community, but bats did not abandon the pagoda as initially feared.
The restoration, which cost VND2.6 billion (US$140,000), was kicked off two years ago by the Institute of Relics Conservation which promised to restore the temple to its original shape.
"We're happy to see the sanctuary back to what it was before," Lam Ren of Vinh Chau District said. "My family paid its respects to the Buddha and prayed for a good harvest this year."
Venerable Lam Tu Linh, vice rector of the pagoda, said without expertise and state funding, the restoration would not have been possible given the local community cannot afford such a large expenditure.