Home Asia Pacific South East Asia Vietnam


Binh Duong inaugurates Buddhist cultural centre
VNA, Mar 31, 2010
Binh Duong, Vietnam -- The Buddhist Sangha in the southern province of Binh Duong inaugurated the province's Buddhist Cultural Centre at the Hoi Khanh pagoda on March 30.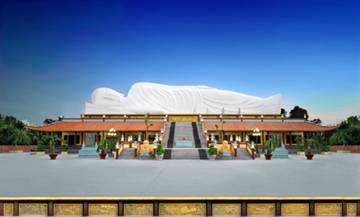 << Statue of Sakyamuni
The centre, which sits on a site of 3,200 sq.m in the compound of the Hoi Khanh Pagoda, was built at a cost of VND 20 billion.
Designed to be a study facility for monks and nuns, the centre will also provide a venue for local Buddhists and followers to exercise their religious practices and carry out Buddhist activities.
The Hoi Khanh pagoda, built in 1868 under Emperor Tu Duc, underwent several major repairs during 1990-1992. It has been named the National Cultural and Historical Relics Site.
The pagoda houses a statue of Sakyamuni on his journey to Nirvana. The statue, which is 52 metres long and 12 metres high, has been recognised by Vietnam's Guinness Book of Records Centre as the largest of its kind in the country.