Home Asia Pacific South East Asia Vietnam


Vietnam detains senior monk, banned Buddhists say
AFP, May 2, 2010
HANOI, Vietnam -- A senior Vietnamese Buddhist monk, previously detained in an alleged plot to finance disorder against the communist regime, is in custody again, the spokesman for his banned church said late Friday.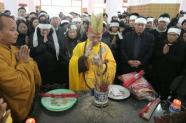 << Thich Khong Tanh, of the Unified Buddhist Church of Vietnam, has been taken away by police

Thich Khong Tanh, of the Unified Buddhist Church of Vietnam (UBCV), was taken away by a group of uniformed police and men in plain clothes Friday evening, shortly after he left his pagoda in Ho Chi Minh City, said the Paris-based International Buddhist Information Bureau.

Monks from the pagoda rushed out in an unsuccessful attempt to intervene, the group said in a statement.

"The monk's current whereabouts are unknown," it said, adding that police did not tell Khong Tanh why they stopped him.

An officer at the Ho Chi Minh City security police, contacted by AFP, said he did not know about the case.

Khong Tanh was detained briefly in August 2007 as he distributed money to farmers outside the government complaints office in Hanoi, state media and Buddhist activists said at the time.

He was carrying almost 19,000 dollars in cash, which his supporters called humanitarian aid for dispossessed farmers. State media said it was payment intended to incite disorder.

The Unified Buddhist Church has been banned since the early 1980s when it refused to join the state-sanctioned Vietnam Buddhist Church.