Home Asia Pacific South East Asia Vietnam


Great Buddhist Festival to mark 1000th anniversary of Thang Long-Hanoi
VOV News, July 18, 2010
Hanoi, Vietnam -- 1,247 Buddhist nuns and monks will gather for the Great Buddhist Festival to mark the 1000th anniversary of Thang Long-Hanoi scheduled to take place in Hanoi from July 17 to August 2.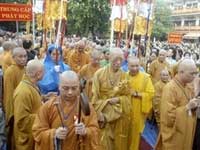 The festival will comprise two major activities- a procession of the statue of King Ly Thai To from the Do Temple in Bac Ninh to Hanoi and a three-day ceremony to pray for peace at the Thang Long Royal Citadel.

In the lead up to the 1000th anniversary of the capital city, the Hanoi Buddhist Church has paid special attention to preserving and developing national cultural identities, particularly the Buddhist culture.

Buddhist institutes have worked closely with the municipal administration and relevant agencies to upgrade and restore historical relics and hold traditional festivals to bring into full play tangible and intangible culture and to celebrate the capital city's anniversary.

From now through the end of this year, the Hanoi Buddhist Church will accelerate the collection of documents on the capital city's history of Buddhism. Over the past year, Buddhist followers in Hanoi have raised VND 2.8 billion to support the poor, Agent Orange victims, disadvantaged and handicapped children, elderly people living alone and the families of social policy beneficiaries.

The Hanoi Buddhist Church now has a total of 2,078 monks and nuns, 2,059 Buddhist centres and 29 Buddhist congregations at municipal and district levels.