Home Asia Pacific South East Asia Vietnam


Buddhism, literature with Hanoiís millennial growth
VOV News, Aug 31, 2010
Hanoi, Vietnam -- A recent symposium has provided an insight into Buddhism and literature's immense contributions to the capital city of Hanoi during its 1,000-year process of development.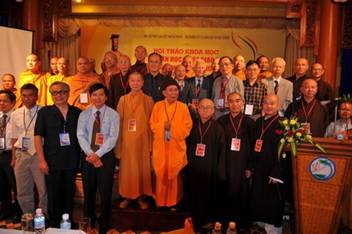 The symposium "Literature and Buddhism with the 1,000th founding anniversary of Thang Long-Hanoi" took place in the southern province of Binh Duong last weekend. It brought together 300 religious and non-religious researchers of Buddhism and literature, and Buddhist dignitaries in Ho Chi Minh City and southern localities.
Close to 100 presentations focused on Buddhism's role in the founding and development of the former Thang Long capital city and Dai Viet under the Ly dynasty (1009-1226) and the Tran dynasty (1226-1400), Buddhist literature, literature under the Ly and Tran dynasties and the later dynasties, and contemporary literature and southern literature as seen through the 1,000-year history of Thang Long-Hanoi.
They helped highlight lessons on national development and defence, international diplomacy, religious tolerance, democracy, politics and Buddhism's company with the nation, said Most Venerable Thich Giac Toan, Vice President of the Vietnam Buddhist Sangha's Executive Council, who is also head of the symposium organising board.