Home Asia Pacific South East Asia Malaysia


Filial Buddhists thank ancestors
The Star, September 5, 2011
Penang, Malaysia -- A BLESSING ceremony at the Buddhist Tzu Chi Merit Society on Macalister Road, Penang, drew some 300 devotees keen to express gratitude to ancestors and parents.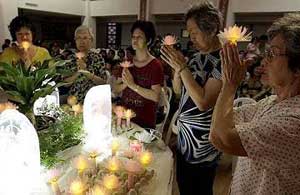 << Deep in prayer: Devotees clasping the battery-operated lotus flowers during the event held at the Buddhist Tzu Chi Merit Society Malaysia on Macalister Road, Penang.

Holding battery-operated lotus flowers as substitute for joss sticks and candles as offerings to Buddha, the devotees queued up for their turn to place the items on cardboard trays.

Organised by Buddhist Compassion Relief Tzu Chi Foundation, the ceremony was held in conjunction with the seventh lunar month of the Chinese calendar.

Its committee member Yeoh Eng Leong said the event was held to inspire the people to express their gratitude and filial piety to their elders.

"While the Chinese consider the seventh lunar month as the Hungry Ghost Month, the Buddhists see it as an auspicious month to express gratitude," he said recently.

Yeoh said that the ceremony encou- raged devotees to pray for a peaceful and harmonious world without the need to burn paper money or offer sacrifices to the ancestors.

Spotted among the enthusiastic crowd was a family of four.

Ooi Soo Gin, 40, and his wife Koay Hooi Kim, 38, brought their two children, three-year-old Gee Jun and eight-year-old Zhi Chin, to the ceremony to expose them to the correct understanding of the seventh lunar month.