Home Asia Pacific South East Asia Malaysia


Centuries-old temple fully restored
By FARIK ZOLKEPLI, The Star, January 29, 2012
KUALA TERENGGANU, Malaysia -- Two years after it was damaged in a fire, the more-than-200-year-old Ho Ann Kiong temple in Kampung Cina has been restored to its former splendour.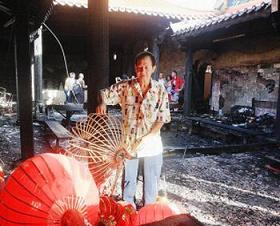 << Former temple caretaker Tan Eng Hock cleaning up the temple grounds after the fire.
The temple, built in 1801 and considered a major historical and tourism site, suffered major damage when fire swept through it in February 2010.
The RM1.3mil restoration work on the Buddhist temple was carried out with public funds.
"We never found out the cause of the fire. We just wanted to restore it to its former beauty," temple committee chairman Datuk Wee Cheng Huat told The Star yesterday.
"The temple is an important landmark for the Chinese, with thousands visiting it each year to offer prayers," he said.
"We are happy it can finally be used again," said Wee, thanking well-wishers and contributors who had pitched in for the restoration effort.
The temple, built by the early Hokkien community and situated in the city's Chinatown tourist belt, is the oldest structure in the area.