Home Asia Pacific South East Asia Malaysia


Buddhist religious ceremony for 5 victims of MH17 tragedy
Bernama, Aug 20, 2014
Amsterdam, Netherlands -- A Buddhist religious ceremony was held for the remains of five Malaysian victims of Malaysia Airlines flight MH17 crash, at a funeral home here, Tuesday morning.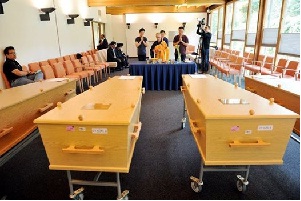 << Ven. Sing Kan leading the chanting services in Amsterdam

The ceremony at the Monuta Innemee building, S-Gravenhage was led by Buddhist priests in the presence of 100 family members of the victims and members of several local Buddhist associations.

Subsequently, the cremation of the remains took place in the town of Zoetermeer, located 26 km from the funeral home.

Minister in the Prime Minister's Department Datuk Dr Wee Ka Siong said the ceremony went as planned.

"The families need not worry because it was conducted as agreed upon prior to this. We always endeavour to give the best and fulfil their requests," he told Malaysian media after the ceremony.

Flight MH17 with 298 people on board, including 15 crew members, is believed to have been shot down by a missile in the Donetsk region, eastern Ukraine on July 17. The victims included 43 Malaysians.

The first batch of Malaysian remains will be flown home this Friday 22 Aug 2014 to full state honours at Bunga Raya Complex, Kuala Lumpur International Airport to be presided by His Majesty Tuanku Abdul Halim Muadzam Shah, the King of Malaysia.

Malaysia has declared 22 Aug 214 as the national day of mourning for Malaysian Airlines flight MH 17.