Home Asia Pacific South East Asia Malaysia


Three senior citizens, including 2 monks, perish in Malaysian temple blaze
The Star, September 5, 2015
KUALA LUMPUR, Malaysia -- Three female senior citizens, including two monks, perished in a 3am fire at a Chinese temple in Kampung Baru Air Panas, Setapak here early Saturday.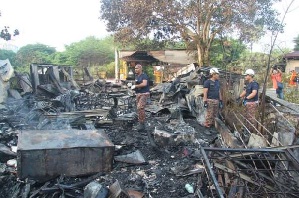 Wangsa Maju district police chief Supt Mohamad Roy Suhaimi Sarif said the charred remains of the victims, aged between 60 and 65, were discovered by firefighters.
"The victims, who were local, are believed to have been trapped and could not find the way out. Initial investigations found that the fire started at the middle of the temple," he said when contacted.
Meanwhile, Kuala Lumpur Fire and Rescue operations assistant director Azizan Ismail said 49 personnel from the Setapak, Wangsa Maju, Hang Tuah and KLCC fire stations arrived in six fire trucks about eight minutes after a distress call at 3.11am.
"We took about one hour to control the blaze from spreading to the squatter area nearby," he said, adding, the department was investigating the cause of the blaze.