Home Asia Pacific South East Asia Malaysia


Floral floats to mark colourful Wesak Day procession
The Star, 10 May 2017
GEORGE TOWN, Penang (Malaysia) -- A float bearing a 3m-tall statue of Buddha stands proud with thousands of flowers donated by devotees at the Malaysian Buddhist Association premises in Burmah Road.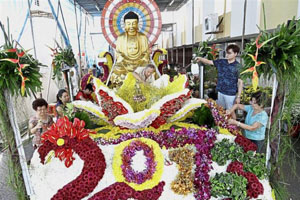 << Act of devotion: Volunteers putting the finishing touches on the main float for the Wesak Day procession.

There is also a rooster head flower arrangement in front of the main float, symbolising the Year of the Rooster.

Penang Wesak Celebrations Committee (procession) chairman Lim Soo Peng said about 30 volunteers helped to decorate the float with the statue yesterday.

Over at the Wat Chaiya Mangalaram Temple in Burmah Lane, devotees were also busy decorating the temple's float.



Temple supervisor Wan Pen Piyawat, 64, said the volunteers started decorating the float on Monday. Spotted helping were nine-year-old Peepoon Prommee and his grandmother Prathoom Prommee, 60.

Tourists and devotees also came in droves to visit the temple, known for its 33m-long reclining Buddha statue that was built in 1958.

Called the Phra Chaiya Mongkol, the statue is commonly known to local community as the Sleeping Buddha.

Friends Judy Dang, 36, Ada Fong, 32, and Ding Yong, 33, from Shenzhen, China, took the opportunity to pray at the Wat Chaiya Mangalaram Temple during their visit there.

Fifteen floats will take part in the Wesak Day procession, which will start from MBA at 6pm, passing through Pangkor Road, Kelawei Road, Burmah Lane, Peel Avenue, Macalister Road, Anson Road and Madras Lane before returning at around 10pm.





About Us
Get Breaking Buddhist News in your Email. Free subscription.

Please help keep the Buddhist Channel going

Point your feed reader to this location
Wikipedia: Buddhism by Country
Sangha Directory
Ecards
Wallpapers
E-Library
Archives
Sitemap
Submit an Article
Write to the Editor
Affiliation Program