Home Asia Pacific South East Asia Malaysia


10,000 devotees seek blessing at cancer fund ceremony
BY LEE YUK PENG, The Star, Dec 12, 2005
Malacca, Malaysia -- MORE than 10,000 Buddhist devotees lit up lotus candles seeking health and happiness at the grand mass blessing ceremony on Friday night while contributing to the depleting Seck Kia Eenh Cancer Fund.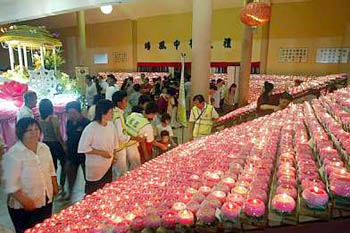 << GRAND CEREMONY: Devotees lighting candles and at the same time contributing to the cancer fund at the Seck Kia Eenh Temple in Malacca.
At the end of the night, over RM200,000 proceeds from the sale of the candles, priced as RM20 each, was collected for the fund.
Organising chairman of the blessing ceremony, Joy Chan, said he was overwhelmed by the support shown by the devotees.
The cancer fund, set up by Chan, a cancer survivor himself on Wesak Day in 2000 in conjunction with the 80th anniversary of Seck Kia Eenh Temple, had since helped more than 150 patients from various races and religions.
The grand mass blessing ceremony was held in conjunction with the second World Buddhist Sangha Youth (WBSY) conference held at Wisma Seck Kia Eenh and attended by 300 monks.
The Buddhist monks, mainly from Theravada, Mahayana, and Vajirayana schools of thought, took turn to chant at the blessing ceremony.
The monks were from 25 countries, including the United States, India, Nepal, China, Australia, Korea, Japan, France, England, Thailand, Mongolia and Malaysia.