Home Asia Pacific South East Asia Malaysia


Malaysia and Singapore's Chief Monk passes away
The Buddhist Channel, Aug 31, 2006
Kuala Lumpur, Malaysia -- The Chief monk of Malaysia and Singapore, Ven. Dr K Sri Dhammananda Maha Nayaka Thera passed away peacefully at 12.42 pm today. He was 87.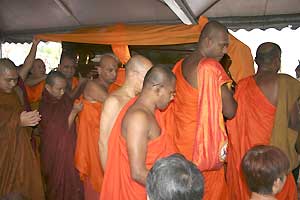 << The venerable's "home coming" to the Buddhist Maha Vihara
Born in the small village of Kirinde, Matara in southern Sri Lanka on March 18, 1919, Ven. Dr K Sri Dhammananda or "Chief" as he is fondly called, was ordained at the age of 12.
He was given the name "Dhammananda" which means "one who experiences happiness through Dhamma." At the age of 22. he received higher ordination (upasampada) under Venerable K Ratanapala Maha Thera, the Chief abbot of Kotawila Vihara.
Ven. Dr K Sri Dhammananda came to Malaya (now Malaysia) in January 1952. He has since then made Malaysia his adopted home. His contribution to the development of Buddhism in pre-independence Malaya and then modern Malaysia is beyond measure.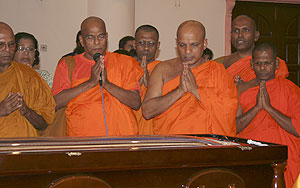 Ven Dhammaratana leading the puja session with other monks >>
He was foremost in promoting Buddhist education to the grassroot and was responsible to bring basic Buddha-Dharma teachings to the lay people. The venerable's impact was especially felt amongst the English speaking local Buddhists.
Meanwhile at the Buddhist Maha Vihara in Kuala Lumpur, the venerable's body was brought back to the vihara at around 5.30 pm today local time. The temple has declared 3 days of official mourning.
Members of the public can pay their last respect to the venerable at the "Dewan Asoka". The funeral will take place on Sunday.