Home Asia Pacific South East Asia Malaysia


Thousands attend cremation to pay respects
The Star, September 4, 2006
KUALA LUMPUR, Malaysia -- Thousands of Buddhists turned up at the Nirvana Memorial Park in Semenyih, to pay their last respects to Venerable Dr Rev K. Sri Dhammananda, the Chief High Priest of Malaysia and Singapore.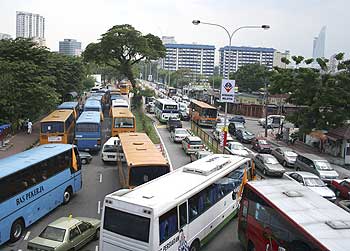 << The funeral procession caused massive traffic jam in parts of Kuala Lumpur
Among those present was Sri Lankan Prime Minister Ratnasiri Wickremanayake. As the crowd swelled and the last eulogies were read, a downpour started. The cremation ceremony was brought forward so that the pyre would not become too wet.
Devotees continued to chant prayers in the rain. Under the shelter of umbrellas, they watched as the casket made its way into a 30-foot high replica of a stupa.
The pyre was lit around 6.15pm. At least 15 places in Sri Lanka held identical ceremonies.
Rev Mahinda, a student of Rev Dhammananda for 30 years, said his teacher's passing was not something to be sad about as he had given much to the world.
"There is no sorrow in death. Instead, it is sorrowful to die without having done anything for oneself or the world," he said in his tribute.