Home Asia Pacific South East Asia Malaysia


Little Buddha comes to Malaysia
The Star, April 16, 2007
PETALING JAYA, Selangor (Malaysia) -- Tulku Tenzin Phuntsok Rinpoche is no ordinary four-year-old. Revered across the world and dubbed the Little Buddha or Little Lama, he is believed to be the reincarnation of the late Great Mahasiddha Geshe Lama Konchong, a highly revered Buddhist master of the 20th century who died in 2001.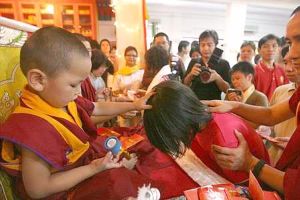 << Child blessing: Tulku Tenzin blessing a little girl at the Losang Dragpa Buddhist Centre in Petaling Jaya yesterday.
Yesterday, some 500 devotees caught a glimpse of him during a public lecture entitled The Tradition of Reincarnation, at the Losang Dragpa Buddhist Centre here.
Carried by a monk, Tulku Tenzin blessed all present by touching their heads. Some devotees even bent low to enable him to bless them and some overzealous ones proceeded to touch the Holy Child on his head, despite being told not to do so.
The lecture was based on the book, Precious Holy Child of Kopan by Ven Geshe Tenzin Zopa, which details the search for the reincarnated Geshe Lama Konchog.
An exhaustive spiritual investigation ended in a remote valley of the Himalayas where Tulku Tenzin lived. His reincarnation was officially recognised last year and he was ordained in India by the 14th Dalai Lama.