Home Asia Pacific South East Asia Malaysia


No-violence campaign by young Buddhists
The Star, April 17, 2007
PETALING JAYA, Malaysia -- In view of the mounting violence among students, the Young Buddhist Association of Malaysia has come up with a campaign to combat aggressive behaviour.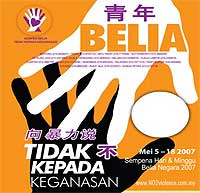 The two-week campaign, themed Youths Say NO to Violence, kicks off on May 5 and will reach out to youths from all over the country, in a bid to instil awareness of the dangers of violence, which may lead to criminal activities.
The project, which is co-organised by the Malaysian Youth Council, backed by the Youth and Sports Ministry and supported by the police, will also introduce the police force to youths and educate them about crime prevention.
"The police have offered to provide materials for the campaign's exhibitions and there will be talks on Rakan Cop and ways to avoid crime," said organising chairman Chua Teck Seong.
Chua added that the campaign was targeted at youths between the ages of 15 and 25.
The Malaysian Chinese Association (MCA) Youth chief Datuk Liow Tiong Lai will launch the campaign in Bentong, Pahang, on May 5.
The campaign is held in conjunction with National Youth Day and Week 2007, and is in tandem with Unesco's marking of 2001 to 2010 as a decade of non-violence.
Official website: http://www.no2violence.com.my/