Home Asia Pacific South East Asia Malaysia


Malaysia: Thousands pay homage to Buddha
The Star, May 2, 2007
KUALA LUMPUR, Malaysia -- The scent of burning joss sticks filled the air in Buddhist temples around the country as thousands of devotees paid homage to Buddha on Wesak Day.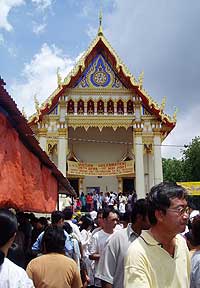 << Crowds throng the Thai Wat Chetawan in Petaling Jaya to celebrate Wesak
At the Buddhist Maha Vihara in Brickfields here yesterday, devotees sought blessings from monks and tied yellow threads around their wrists meant to protect and bless them at all times.
The street leading to the temple was a hive of activity, with stalls selling flowers, drinks and food as well as volunteers collecting donations for welfare and children's homes.
An exhibition titled amarekha displaying wooden sculptures of the various postures of Buddha from Sri Lanka was also held at one of the halls in the temple.
Chief High Priest of Malaysia, Ven K. Sri Dhammaratana Nayaka Thera, said the true meaning of Wesak Day was fading with celebrations having more of a carnival atmosphere.
He said it was important that the younger generation was taught the original way of commemorating the sacred day.
A procession along the streets near the temple was held later in the evening.
At the Thai Buddhist Chetawan Temple in Petaling Jaya, children and adults rang bells that were placed at the compound of the temple and lit lotus-shaped candles and oil lamps.
Among them were beautician Cheam Yee Siew and her two children Shevone Seow, seven, and Sven Seow, three.
"I want my children to learn the teachings of Buddha. Every year, I bring them to Buddhist temples on this holy day," she said.