Home Asia Pacific South East Asia Malaysia


On real and bogus monks
The Star, July 25, 2007; Published on the Buddhist Channel, Aug 2, 2007
Penang, Malaysia -- The problem of bogus monks soliciting money can be curbed if Buddhists in the country are educated on the true practices of Buddhism, said Yayasan Belia Buddhist Malaysia vice-chairman Datuk Tan Gin Soon.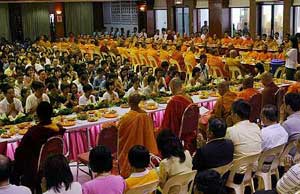 << Divine:Devotees,monks and nuns gathering for prayer and transfer of merits.
Monks from three different schools of Buddhism – Mahayana, Theravada and Vajrayana – chanted suttas (teachings of Buddha).

"Buddhists must educate themselves to know when to give and when not to give donations.

"They must be able to differentiate the real monks from the bogus monks," he said in his speech during the 2007 National Maha Sang-hika Dana held at the Moral Uplifting Society premises in Jalan Macalister in Penang recently.

More than 200 Buddhist monks and nuns from various parts of the world and country gathered for the event to chant prayers for the living and deceased.

About 2,000 Buddhist devotees attended the event to offer alms to the monks.

A total of RM150,000 was raised at the event.

Tan said RM20,000 was used for the event and the rest would be channelled to the Maha Sangha Fund to finance the monks' educational and medical expenses.

Alokarama Asahan of Aloka Foundation Malacca chief monk Ven Mahinda Maha Thera said it was difficult to have such a gathering.

"Let us not think that the Dana today is only for certain individuals and only in Penang but think of it as a whole,'' he said.