Home Asia Pacific South East Asia Malaysia


Chinese New Year cheer at Jenjarom's Dong Zen Temple
The Star, January 30, 2008
BANTING, Selangor (Malaysia) -- With Chinese New Year just 10 days away, the festive cheer at Dong Zen Temple in Sungai Jenjarom, Selangor, is in full swing.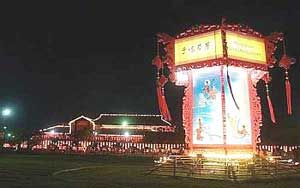 << All lit up: A 9m-high giant lantern standing on the Dong Zen Temple grounds to help usher in Chinese New Year.

The temple grounds are decorated with lights, lanterns and flowers in conjunction with the 2008 Chinese New Year Lantern and Flower Festival from Feb 3 to 24.

Organised by Fo Guang Shan (FGS) Malaysia, the event this year is expected to attract two million visitors throughout the celebrations, from the eve of Chinese New Year to the 18th day of the Chinese lunar calendar.

The temple attracted 1.5 million devotees and tourists last Chinese New Year.

A series of programmes that include various festive celebrations, cultural exhibitions and traditional Chinese New Year activities will be held at the temple.

Chief event coordinator Rev Miao Sen said there would be a magnificent flora expo featuring a grand flora bed consisting 25,000 pots of various flowers, with a tall animatronics lantern.

There is also the mini wonderland depicting the Sacred Place of Buddhism in India and another scenic spot depicting the life of Buddha.

In addition, a parade of costumed characters from traditional Buddhist and Chinese stories plus creative floats would be held.

Admission and parking are free. Those who want to visit the temple during the celebrations can contact FGS Dong Zen at 03-3191 1533 or FGS Petaling Jaya at 03-7877 6533.